MEANINGFUL YOUTH ENGAGEMENT TRAINING FOR DISTRICT LEVEL YOUTH COUNCILS AND YOUNG LEADERS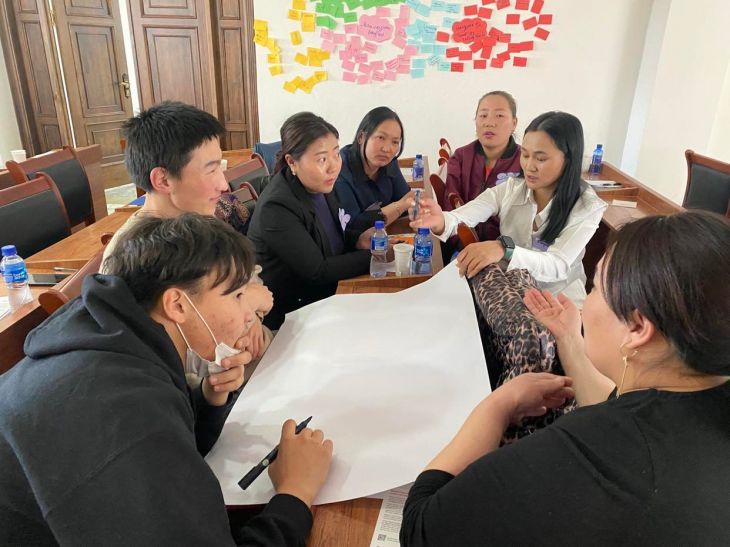 In March 2023, the Ulaanbaatar Urban Services and Ger Areas Development Investment Program (GADIP) organized training on Meaningful youth engagement for members of the district-level youth councils and the young leaders in cooperation with the Municipal Family, Child, and Youth Development Agency.
The training was organized to empower the young people and help them to understand the objectives of the program and the benefits they could get from the redevelopment process of the subcenters, and to ensure the full and meaningful participation of the youth to the process of this change. A total of 89 young leaders from Songinohairkhan, Chingeltei, and Sukhbaatar Districts participated in the trainings and exchanged views the matters discussed.
During the trainings, the Consultant presented the Program to the attendees including community and gender activities, and the significance of community participation into the subcenter redevelopment. Furthermore, an specialist from Save the Children Foundation was welcomed to the events and has introduced "Enhancing Youth-Led Engagement for Creating an Inclusive and Livable City in Ulaanbaatar Ger Areas" to the young people.
A lecturer from ""Mongolian Volunteer Center", a non-government of organization was invited to conduct the trainings, and issues on the youth participation in the local development, outcome of the participation, and challenges and problems the youth happen to face today were discussed. The youth have had an in-depth discussion of their contribution and cooperation to local development, and were given tasks to do as to enable them to share their experiences. They have learnt together the youth's participation at the decision-making level and the approach how to motivate, mobilise and organize others to enter into the local development process.
As a result of the training, based on the international experience of youth participation and the effect of stimulating youth resources and participation, it was fully provided with the conditions to make suggestions for joint development planning activities to strengthen youth participation in local development.