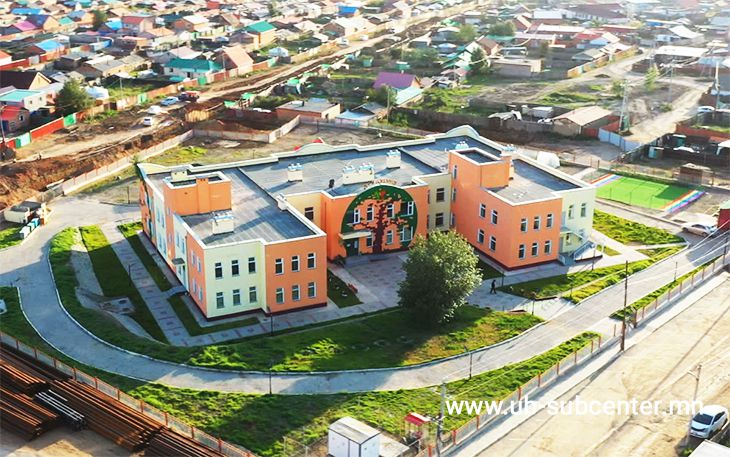 Basic characteristics of Bayankhoshuu subcenter:
Territorial coverage - 162 hectares
Number of land parcels – 3,665 units
Number of accommodations – 4,376 pieces in total
Traditional ger – 1,428 pieces
House – 2,948 pieces
Current household
Number of current household: 4,514
Living in traditional ger – 1,408 households /5,071 people/
Living in house – 2,967 households /11,439 people/
Renting accommodation – 139 households /473 people/
PLANNED ACTIVITIES
Heating Facilities and Networks
Extension of main heating pipelines -3.45 km
Construction of main heating pipelines /new/-3.2 km
Construction of heating networks-7.58 km
Substation center for distribution of water and heating -12 pieces
Road Networks

Urban road with width of 14 meters – 7.42 km
Construction of flood protection dam – 2.5 km
Landscaping – 4.65 hectares
PLANNED ACTIVITIES
Water supply and sewerage networks
Water supply networks -5.05 km
Sewerage collector main within the district – 8.78 km
Sewerage collector main - 6.3 km /completed/
Water reservoir – 1000 m3
Electricity and Telecommunications Networks

Installation of electric lines – 4.2 km
Substation with capacity of 35/10 kW -1 piece
Telecommunication networks – 2.8 km
Information Technology Center - 1 piece
Kindergarten
Capacity: 240 children
Playground – 230 m2
Green areas – 2,370 m2
Parking Lot – 106 m2
Completely equipped for operations
Expected Outcome:

Increase of access to preschool education up to 63.49%. Currently, total of 2,774 children have access to kindergarten services out of total of 4,747 children living in Bayankhoshuu subcenter area, which means about 40% of the preschool age children are left at home. Parents with children of preschool age will have opportunity to work /up to 240 households/
Business Incubator and Vocational Training Center
Capacity: Floor area – 0.36 hectares
Parking lot capacity – 20 vehicles
Building capacity of the business incubator center – 1,206.63 m2
Building capacity of Vocational Training Center – 821.93 m2
The 2-storey building is suitable for running training, service and industrial activities.
Expected Outcomes:

Increase of skilled workers trained through vocational training center. Better access to support provided to the business owners. Increase of jobs for unemployed citizens living in Bayankhoshuu subcenter and it will have indirect impact on their financial capacity.